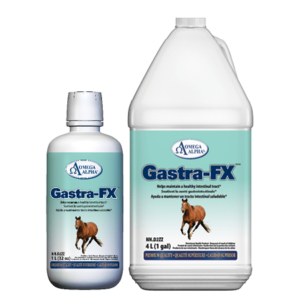 Gastra-FX™
Stomach Health Formula
Healthy Intestinal Tract*
1 L (32 oz)/bottle - UPC 826913255500
4 L (1 Gal)/bottle - UPC 826913253001
NN.D2ZZ
Support the maintenance of normal stomach health
Combine with Biotic 8™ Plus to promote better digestion
INGREDIENTS PER 30 mL /1 oz:
Glycyrrhiza glabra (Licorice Root).......................................... 2169 mg
Althea officinalis (Marshmallow Root)................................... 1497 mg
L-Glutamine............................................................................. 1000 mg
Ulmus rubra (Slippery Elm Bark)...............................................681 mg
Zingiber officinale (Ginger Root)................................................546 mg
ADDITIONAL INGREDIENTS: Purified water, Guar gum, Citric acid, Potassium sorbate, Benzoic acid (buffered), Natural apple concentrate.
DIRECTIONS: Give 30 mL (1 oz) twice daily and 60 mL (2 oz) prior to exercise or event. Place directly into the mouth for best results.
EQUINE DAILY SERVINGS:
Loading serving - 50 mL, 3 times daily = 1-week supply (Litre); 1-month supply (Gallon)
Maintenance serving - 30 mL, twice daily = 2-week supply (Litre); 2-month supply (Gallon)
CAUTIONS: Not for use in horses intended for food; that are pregnant, lactating or in foal; with hypertension, cardiac, gallstones or kidney disease. Do not exceed recommended serving or combine with steroid therapy. Do not use if security seal is broken.
STORAGE: Consume within six (6) months after opening.
ALLERGENS: Contains no corn, dairy, gluten, soy, wheat or yeast.
Omega Alpha's products are made from all natural human grade ingredients therefore product may have batch differences in color and taste.
*These statements have not been evaluated by the Food and Drug Administration. This product is not intended to diagnose, treat, cure or prevent any disease.