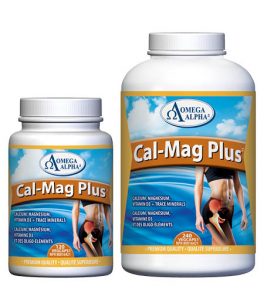 Cal-Mag Plus Capsules
Calcium & Magnesium + Trace Minerals
Cal-Mag Plus capsules
INGREDIENTS:
Calcium (elemental) 500 mg
Magnesium (elemental) 250 mg
Manganese (elemental) 5 mg
Vitamin D3 200 IU
Vitamin C 250 mg
Selenium (elemental) 50 mcg
Zinc (elemental) 10 mg
Copper (elemental) 1 mg
Boron 2.5 mg
Silicon 10 mg
Sodium metasilicate
OTHER INGREDIENTS: Hypromellose (vegetarian capsule shell).
Suggested serving for adults: 4 capsules in the morning and 4 capsules in the evening, or as directed by your health care practitioner.
Caution: Do not consume more than the recommended dose of Cal-Mag Plus unless with the advice of your health care practitioner. If pregnant or breastfeeding consult your health care practitioner prior to use.