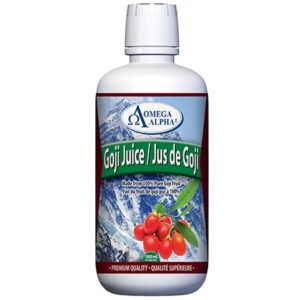 Goji Juice
Made from 100% Pure Goji Fruit
1 L/bottle – UPC 826913124806
NPN 80031883
RECOMMENDED USE: Used in Traditional Chinese Medicine to tonify the liver and kidneys, nourish the vital essence, and support healthy eyes.
INGREDIENT PER 1 TABLESPOON (15 ml):
Lycium barbarum (Goji Fruit)....................3 g
OTHER INGREDIENTS: Purified water, Vitamin C, Citric acid, Potassium sorbate, Sodium benzoate.
RECOMMENDED SERVING: Adults: Take 2 tablespoons (30 mL) once per day. Can be mixed with juice or water. Shake well before use.
CAUTIONS: Do not use if you are pregnant, breastfeeding or allergic to plants of the Solanacea family. Consult a health care practitioner prior to use if you are taking anticoagulant drugs such as Warfarin or suffering from Spleen or Stomach deficiency with dampness leading to diarrhea. Do not use if security seal is broken.
STORAGE: Refrigerate after opening. Store away from children. Consume within six (6) months after opening.
ALLERGENS: Contains no dairy, yeast, corn, wheat or gluten.