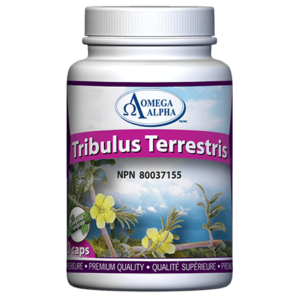 Tribulus Terrestris
Supports Hormones
120 veg caps/bottle-UPC 826913120808
NPN 80037155
RECOMMENDED USE: Traditionally used in Ayurveda as an aphrodisiac (Vrsya) for men, diuretic (Mutrala), and for relief of difficult/painful urination (Mutrakrcchra).
INGREDIENT PER 1 CAPSULE:
Tribulus terrestris (Puncture Vine Fruit)............................................625 mg
OTHER INGREDIENT: Hypromellose (vegetarian capsule shell).
DURATION OF USE: For occasional use only as a diuretic (Mutrala).
RECOMMENDED SERVING: Adults: Take 2 capsules three times per day with food.
CAUTIONS: If you are pregnant, consult a health care practitioner prior to use. Diuretic effect and/or hypersensitivity/allergy have been known to occur. If this is the case, discontinue use and consult a health care practitioner. Do not use if security seal is broken.
STORAGE: Store away from children. Store protected from light and moisture.
ALLERGENS: Contains no dairy, yeast, corn, wheat or gluten.